Looking for the right dog fence in Richmond? A fence is a necessity if you own a dog, and not just any old fence will do. The fence needs to be the right height and the right material to serve the purpose of keeping your dog safe in your yard. So what's the ideal fence for a dog in Richmond? Read on to find out!
What is the Ideal Dog Fence?
A good dog fence needs to be two things: tall, and impenetrable. By impenetrable, we mean that it can't allow space for the dog to wiggle its way out to chase that squirrel that just ran by. So a 3-board paddock fence, for example, wouldn't be a good fence for a dog, especially a smaller breed that could easily fit through the space in between the boards.
Keeping this in mind, there are several fences that work well for a dog. Wood picket fences are great because there is minimal if any space at all in between the boards, allowing no room for the dog to try to escape. Chain link fences are another good fence with minimal space in between the links. PVC vinyl fences can be constructed with a dog in mind as can an aluminum or steel fence. Even an ornamental steel fence can work for a dog as long as it doesn't allow room for the dog to get free.
Height is the other factor you want to keep in mind when getting a fence for a dog. Smaller breeds will need a shorter fence, while larger breeds may require one that is slightly higher. Do some research on your breed to see how high it can jump and base your fence height requirement off that.
For a classic look, you can't beat a wooden picket fence for dogs. Wood fences can be painted in any color and will add plenty of curb appeal to your home. Contact Hercules Fence of Richmond today for more information about the right fence for your dog!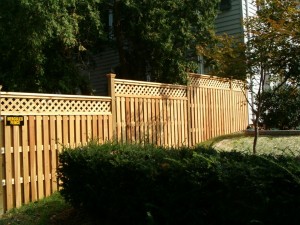 Hercules Fence of Richmond, VA prides itself in installing fence at some of the most prestigious places in the world, as well as for many government agencies & and well known businesses. We are proud of our unique and prestigious fence installations that we like to recognize as our "Signature" projects. Whether a custom installation designed by a Hercules professional, or a challenging project at a national landmark, Hercules fence takes a special pride in these jobs.
In addition to offering you experience and stability, Hercules Fence can offer the buying power of the largest fence company based in Virginia. Whether you are seeking chain-link fence, wood, PVC, ornamental aluminum, ornamental steel, decks, gate and operator systems, guardrail, dog kennels, wire mesh cages or construction panels, Hercules can buy the product at a price that will afford you value to complement our quality.
If you choose Hercules Fence of Richmond, VA today, you'll learn why we're the best in the business. The knowledgeable people of Hercules Fence have developed a reputation since 1955 for professional service and quality installation. With over 50 years in the fence business, we are well aware that our reputation must be earned anew every day.
Contact Hercules Fence of Richmond, VA today at (804)752-7992 or contact us on our website to talk about a residential or commercial fence.