Fencing is often thought of as an outdoor domain, but it has plenty of applications indoors for commercial use as well. Caging is commonly required in facilities where indoor storage of large components is necessary. Learn how interior caging can be used for your commercial facility in this week's blog.
Interior Caging
Interior caging is often used in parking garages and large warehouses for storage and security purposes. Caging can be designed as a stand-alone unit, connected to a wall or other barrier, or as an enclosure for an area that protrudes inward and only requires fencing on one side. For security purposes, locking panels provide protection from vandals and thieves. PVC screening can also be used to obscure the contents of the cage from view for added security.
Chain link fence is the most common type of fence used for interior caging applications. The ease of installation and versatility of chain link fence make it the ideal fence solution for interior caging. Chain link fence also helps solve issues with space constraints as it is easily cut and fit to shape.
Storage possibilities for interior caging are limited only to the dimensions of your interior space. Large mechanized equipment can easily be stored in interior caging provided you have the space. Interior storage is important not only for freeing up outdoor space but also for protecting equipment from the elements. For more information about interior chain link caging, contact Hercules Fence of Richmond today.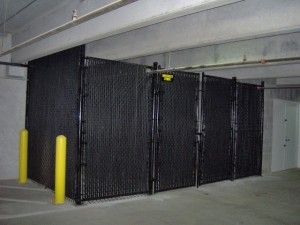 Hercules Fence of Richmond, VA prides itself in installing fence at some of the most prestigious places in the world, as well as for many government agencies & and well known businesses. We are proud of our unique and prestigious fence installations that we like to recognize as our "Signature" projects. Whether a custom installation designed by a Hercules professional, or a challenging project at a national landmark, Hercules fence takes a special pride in these jobs.
In addition to offering you experience and stability, Hercules Fence can offer the buying power of the largest fence company based in Virginia. Whether you are seeking chain-link fence, wood, PVC, ornamental aluminum, ornamental steel, decks, gate and operator systems, guardrail, dog kennels, wire mesh cages or construction panels, Hercules can buy the product at a price that will afford you value to complement our quality.
If you choose Hercules Fence of Richmond, VA today, you'll learn why we're the best in the business. The knowledgeable people of Hercules Fence have developed a reputation since 1955 for professional service and quality installation. With over 50 years in the fence business, we are well aware that our reputation must be earned anew every day.
Contact Hercules Fence of Richmond, VA today at (804)752-7992 or contact us on our website to talk about a residential or commercial fence.