Perimeter fences are essentially any type of fence that extends around the entire perimeter of a facility. Perimeter fences can be used for residential, commercial, industrial, and government applications. Naturally, different types of fences work better for different applications. Lets talk about what types of fences work best in each situation.
Residential
A perimeter fence for a residential application can be approached from several standpoints. It can be purely aesthetic in nature, allowing for intricate designs that add a nice visual element to the property. Security can also be incorporated into residential fences, without sacrificing aesthetic appeal, simply by building the fence higher. Wood fences make great perimeter fences for large, rural properties.
Commercial
Commercial perimeter fences can be styled to fit the environment they're in. If it's an upscale commercial center, ornate iron fences work well. For office buildings and complexes, more reserved yet still stately iron work can add a nice touch.
Industrial
Industrial perimeter fences usually are more utilitarian in nature, and opt for function over form. Chain link and vinyl chain link fences cover large areas efficiently and at an affordable price.
Government
For government applications such as high security complexes, high security fencing is the norm. This can include anything from anti-climb fencing with barbed wire, to crash rated bollards and secure gate entry systems.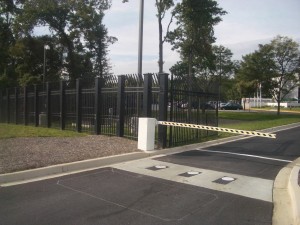 Hercules Fence of Richmond, VA prides itself in installing fence at some of the most prestigious places in the world, as well as for many government agencies & and well known businesses. We are proud of our unique and prestigious fence installations that we like to recognize as our "Signature" projects. Whether a custom installation designed by a Hercules professional, or a challenging project at a national landmark, Hercules fence takes a special pride in these jobs.
In addition to offering you experience and stability, Hercules Fence can offer the buying power of the largest fence company based in Virginia. Whether you are seeking chain-link fence, wood, PVC, ornamental aluminum, ornamental steel, decks, gate and operator systems, guardrail, dog kennels, wire mesh cages or construction panels, Hercules can buy the product at a price that will afford you value to complement our quality.
If you choose Hercules Fence of Richmond, VA today, you'll learn why we're the best in the business. The knowledgeable people of Hercules Fence have developed a reputation since 1955 for professional service and quality installation. With over 50 years in the fence business, we are well aware that our reputation must be earned anew every day.
Contact Hercules Fence of Richmond, VA today at (804)752-7992 or contact us on our website to talk about a residential or commercial fence.