Wood fences need extra protection from the elements, which is why it's a good idea to seal your wood fence. The frequency with which you seal a wood fence depends on the climate where you live and the kind of sealant you use. You may have to seal up to every 8 months in wetter climates, while in dry climates you could go up to 18 months between seals. For those somewhere in between, a good rule of thumb is to seal once a year. Here's how to seal your wood fence:
Wash the Fence
Get a gallon bucket and pour one cup of dishwashing liquid in, then fill the rest with cool water. Use this solution to clean the fence with a medium-bristled brush. After you've cleaned the fence, rinse it with the hose, making sure to remove all the soap.
Remove Mildew
Pour a cup of bleach into a gallon bucket, and fill the rest with cool water. Use this solution and the medium-bristled brush to scrub off any mildew from the fence. After you're finished, rinse with the hose, and make sure to remove all the bleach. Let the fence dry completely.
Seal the Fence
Once the fence has completely dried, paint the sealer on using a paint brush or sprayer. Wear gloves and goggles to protect your hands and eyes from the sealer. If you use a sprayer, you may have to thin the product, so follow the manufacturer's instructions for doing so. Make sure to apply the sealer evenly, and let it dry for at least a day before getting the fence wet. Oil sealers, while more expensive, will last longer than wax sealers.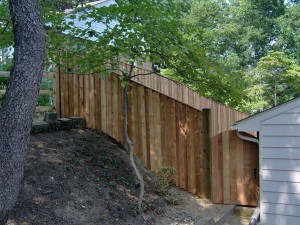 Hercules Fence of Richmond, VA prides itself in installing fence at some of the most prestigious places in the world, as well as for many government agencies & and well known businesses. We are proud of our unique and prestigious fence installations that we like to recognize as our "Signature" projects. Whether a custom installation designed by a Hercules professional, or a challenging project at a national landmark, Hercules fence takes a special pride in these jobs.
In addition to offering you experience and stability, Hercules Fence can offer the buying power of the largest fence company based in Virginia. Whether you are seeking chain-link fence, wood, PVC, ornamental aluminum, ornamental steel, decks, gate and operator systems, guardrail, dog kennels, wire mesh cages or construction panels, Hercules can buy the product at a price that will afford you value to complement our quality.
If you choose Hercules Fence of Richmond, VA today, you'll learn why we're the best in the business. The knowledgeable people of Hercules Fence have developed a reputation since 1955 for professional service and quality installation. With over 50 years in the fence business, we are well aware that our reputation must be earned anew every day.
Contact Hercules Fence of Richmond, VA today at (804)752-7992 or contact us on our website to talk about a residential or commercial fence.
Source
http://www.ehow.com/how_5620343_seal-wooden-fence.html