Fence repair is an inevitable part of the life of many fences. There are a variety of reasons why your fence might need to be repaired. You might accidentally back into the fence with your car in the driveway. A storm could bring a limb down on your fence. Growth of vegetation can overtake fences and weaken their structural integrity. Animals can dig under fences and tear up chain links. An old fence may simply have seen too much abuse from the elements over the years. Aesthetic issues such as chipping paint can be a problem as well.
While painting your fence is one thing, replacing a section that got hit by a car or tree limb is another story. For moderate to major fence repair in Richmond, you need a fence company that has plenty of experience installing and repairing all kinds of fences. Hercules Fence has been in the fence business for more than 50 years installing and maintaining residential, commercial, and industrial fences of all kinds. From traditional wood fences to high-tech high security fencing, we've never met a fence we couldn't fix. From small cosmetic fixes to replacing posts and entire sections of fence, Hercules can get your fence looking like it did before that bumper backed up a little too far or that old limb finally gave way. For all of your fence repair needs in Richmond, you can trust Hercules Fence of Richmond.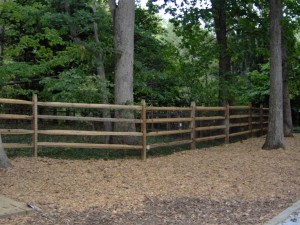 Hercules Fence of Richmond, VA prides itself in installing fence at some of the most prestigious places in the world, as well as for many government agencies & and well known businesses. We are proud of our unique and prestigious fence installations that we like to recognize as our "Signature" projects. Whether a custom installation designed by a Hercules professional, or a challenging project at a national landmark, Hercules fence takes a special pride in these jobs.
In addition to offering you experience and stability, Hercules Fence can offer the buying power of the largest fence company based in Virginia. Whether you are seeking chain-link fence, wood, PVC, ornamental aluminum, ornamental steel, decks, gate and operator systems, guardrail, dog kennels, wire mesh cages or construction panels, Hercules can buy the product at a price that will afford you value to complement our quality.
If you choose Hercules Fence of Richmond, VA today, you'll learn why we're the best in the business. The knowledgeable people of Hercules Fence have developed a reputation since 1955 for professional service and quality installation. With over 50 years in the fence business, we are well aware that our reputation must be earned anew every day.
Contact Hercules Fence of Richmond, VA today at (804)752-7992 or contact us on our website to talk about a residential or commercial fence.