Deer are a common sight in backyards, and though they may be nice to observe, they can also be a nuisance. Deer eat 6-10 pounds of food every day and if they happen across your yard, this can include your plants, tree leaves, and vegetable garden. Deer also bring ticks into your yard that can carry Lyme disease, and they may attract predators as well. Keeping deer out of your yard keeps your trees, shrubs, and gardens safe, and keeps you safe by reducing the presence of ticks, and possibly predatory animals.
So how do you go about keeping deer out? There are some methods such as using deer repellant scents, but these are hit or miss, and it's difficult to use these to cover an entire yard. A fence, on the other hand, can run around the perimeter of your yard and enclose it completely, keeping everything on the inside out of the reach of curious deer. There are many kinds of fences that work well for this application, including wood, aluminum, iron, and chain link fences.
There are several things to consider when installing a fence designed to keep out deer. First, deer can jump very high, clearing up to six feet. This makes it important to install a fence that is tall enough to prevent dear from jumping over, which means it should be at least 8 feet tall. If you don't want a very tall fence surrounding your property, you can choose to just focus on a few areas such as a garden that you want to protect. In addition, check with your local neighborhood association as it may have requirements of its own regarding fence construction.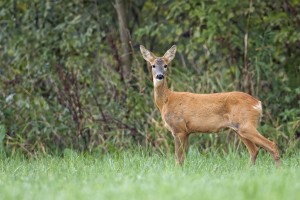 Hercules Fence of Richmond, VA prides itself in installing fence at some of the most prestigious places in the world, as well as for many government agencies & and well known businesses. We are proud of our unique and prestigious fence installations that we like to recognize as our "Signature" projects. Whether a custom installation designed by a Hercules professional, or a challenging project at a national landmark, Hercules fence takes a special pride in these jobs.
In addition to offering you experience and stability, Hercules Fence can offer the buying power of the largest fence company based in Virginia. Whether you are seeking chain-link fence, wood, PVC, ornamental aluminum, ornamental steel, decks, gate and operator systems, guardrail, dog kennels, wire mesh cages or construction panels, Hercules can buy the product at a price that will afford you value to complement our quality.
If you choose Hercules Fence of Richmond, VA today, you'll learn why we're the best in the business. The knowledgeable people of Hercules Fence have developed a reputation since 1955 for professional service and quality installation. With over 50 years in the fence business, we are well aware that our reputation must be earned anew every day.
Contact Hercules Fence of Richmond, VA today at (804)752-7992 or contact us on our website to talk about a residential or commercial fence.
Sources
http://www.landscapingnetwork.com/fencing/deer.html
http://www.timesdispatch.com/entertainment-life/five-facts-about-deer/article_1e56fa84-61aa-5737-a855-912b2ceea192.html