Spring is finally here, and the warm weather and soft rains make this the perfect time to get your garden going. Whether you have a vegetable garden or a decorative garden, you work hard to reap what you sow, and you want your garden to both look good, and be productive if it's a food producer. However, there is one big obstacle to a healthy garden that only a fence can keep out. You guessed it, animals.
Animals love to wander into your garden and feed on your vegetables which you labored so hard to produce. Even if there's no food in the garden, wandering animals can stamp down flowers and turn your garden into a mess of dirt and dead flowers. And it's not just animals like deer that you have to watch out for. Your own dog might take to digging in the garden and make it his own personal excavation site. This simply won't do.
Protect your garden from large animals friendly and foe with a garden fence. What kind of fence is best for a garden? For vegetable gardens, you really can't go wrong with a wood picket fence. Leave little or no space in between the slats to prevent creatures from poking their heads in to take a bite. For floral gardens, you might prefer something that offers a better view but still protects it from wandering animals. In this case, your options include everything from wood to vinyl to aluminum to iron. This year, don't let animals get the best of your garden. Install a garden fence and stake claim to what's yours.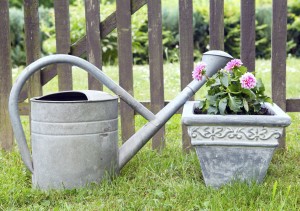 Hercules Fence of Richmond, VA prides itself in installing fence at some of the most prestigious places in the world, as well as for many government agencies & and well known businesses. We are proud of our unique and prestigious fence installations that we like to recognize as our "Signature" projects. Whether a custom installation designed by a Hercules professional, or a challenging project at a national landmark, Hercules fence takes a special pride in these jobs.
In addition to offering you experience and stability, Hercules Fence can offer the buying power of the largest fence company based in Virginia. Whether you are seeking chain-link fence, wood, PVC, ornamental aluminum, ornamental steel, decks, gate and operator systems, guardrail, dog kennels, wire mesh cages or construction panels, Hercules can buy the product at a price that will afford you value to complement our quality.
If you choose Hercules Fence of Richmond, VA today, you'll learn why we're the best in the business. The knowledgeable people of Hercules Fence have developed a reputation since 1955 for professional service and quality installation. With over 50 years in the fence business, we are well aware that our reputation must be earned anew every day.
Contact Hercules Fence of Richmond, VA today at (804)752-7992 or contact us on our website to talk about a residential or commercial fence.