April showers bring May flowers, and they also bring boss and mildew on your nice wood fence. Moss, mildew, and other algaes love the spring conditions that leave your fence damp, making it a great place for them to grow. Fortunately, it's easy enough to clean these green intruders off of your wood fence. In this blog, we'll talk about clean with a pressure washer, and without a pressure washer.
Cleaning a Wood Fence with a Pressure Washer
Pressure washers are great for making quick work of moss, but you want to be careful. Using too much pressure could damage your wood fence. Set the pressure on the washer on a low setting such as 1500 to 2000 psi, and make sure to tie back and cover up any shrubbery you have next to the fence. Move the pressure washer in a deliberate pattern, being careful not to keep it on one spot for too long. Stand about two feet away from the fence. If the pressure washer fails to remove some of the moss or mildew, move on to the next step.
Cleaning a Wood Fence by Hand
First, cover any plants with plastic bags or buckets, because this cleaning process involves bleach. Make sure to wear gloves so you don't get any bleach on your hands. In a bucket, mix warm water, bleach, and a mild soap that is safe to mix with bleach, using a ratio of 2 parts water to one part bleach, and a teaspoon of soap for every gallon of water. Use a scrubbing brush to scrub this solution onto the fence and remove the moss or mildew. Let the fence dry, and then apply an anti-algae finish to prevent it from returning.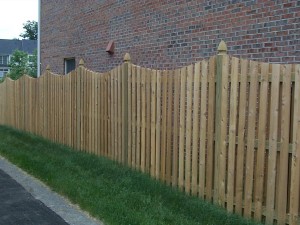 Hercules Fence of Richmond, VA prides itself in installing fence at some of the most prestigious places in the world, as well as for many government agencies & and well known businesses. We are proud of our unique and prestigious fence installations that we like to recognize as our "Signature" projects. Whether a custom installation designed by a Hercules professional, or a challenging project at a national landmark, Hercules fence takes a special pride in these jobs.
In addition to offering you experience and stability, Hercules Fence can offer the buying power of the largest fence company based in Virginia. Whether you are seeking chain-link fence, wood, PVC, ornamental aluminum, ornamental steel, decks, gate and operator systems, guardrail, dog kennels, wire mesh cages or construction panels, Hercules can buy the product at a price that will afford you value to complement our quality.
If you choose Hercules Fence of Richmond, VA today, you'll learn why we're the best in the business. The knowledgeable people of Hercules Fence have developed a reputation since 1955 for professional service and quality installation. With over 50 years in the fence business, we are well aware that our reputation must be earned anew every day.
Contact Hercules Fence of Richmond, VA today at (804)752-7992 or contact us on our website to talk about a residential or commercial fence.
Sources
http://www.wikihow.com/Remove-Mildew-and-Algae-from-a-Wooden-Fence
http://www.fencespecialists.com/fencing-tips/how-to-clean-moss-off-a-wooden-fence/