If you have pets, especially dogs, you most likely need a fence to keep them from running all over the neighborhood. Your two options are invisible fencing and traditional fencing. We believe that traditional fencing is the better option, both in terms of function and form.
Fencing for Your Pet
The View
One of the main arguments for invisible fences is that they can spoil the view, but we believe that it's just the opposite. A beautiful wood picket fence will add a charming visual element to your home and make the view that much better. Invisible fences are often marked with lines of small flags, which don't do much for the view anyway. When you choose a traditional fence, you get to pick a fence that matches the aesthetic you're going for with your home.
Functionality
Invisible fences aren't foolproof. A particularly eager dog will keep running past the fence even if it gets shocked. Invisible fences also have a limited range, and can't accommodate for irregularities in the shape of the yard. They are also ineffective in the event of a power outage. Traditional fences, on the other hand, can fit your yard perfectly, and prevent your pet from escaping, all without giving them a sharp shock.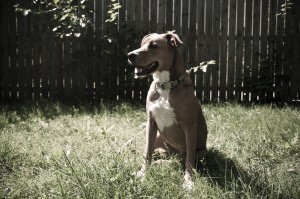 Hercules Fence of Richmond, VA prides itself in installing fence at some of the most prestigious places in the world, as well as for many government agencies & and well known businesses. We are proud of our unique and prestigious fence installations that we like to recognize as our "Signature" projects. Whether a custom installation designed by a Hercules professional, or a challenging project at a national landmark, Hercules fence takes a special pride in these jobs.
In addition to offering you experience and stability, Hercules Fence can offer the buying power of the largest fence company based in Virginia. Whether you are seeking chain-link fence, wood, PVC, ornamental aluminum, ornamental steel, decks, gate and operator systems, guardrail, dog kennels, wire mesh cages or construction panels, Hercules can buy the product at a price that will afford you value to complement our quality.
If you choose Hercules Fence of Richmond, VA today, you'll learn why we're the best in the business. The knowledgeable people of Hercules Fence have developed a reputation since 1955 for professional service and quality installation. With over 50 years in the fence business, we are well aware that our reputation must be earned anew every day.
Contact Hercules Fence of Richmond, VA today at (804)752-7992 or contact us on our website to talk about a residential or commercial fence.