When choosing a fence contractor for a high security application, you need to find one you can trust. One of the best ways to do this is to see what clients have trusted your contractor in the past for their high security fence projects. Here are some of the following clients for whom we've done security fence work.
The FBI
The CIA
The State Department
NASA
United States Secret Service
Homeland Security
The Federal Reserve
Those are just a few of the clients we've served, and we think this list speaks for itself. So why did they choose Hercules Fence? We have the experience and the products to get the job done. From crash-rated barriers to anti-terrorism cable, and from barbed-wire fences to anti-climb fencing, our high security line is meant for maximum security. Many of our ornamental security fences not only provide security in and of themselves, but also allow for easy installation and integration of additional security components like fiber optic motion sensors and security cameras. For your high security fencing needs, you can trust Hercules.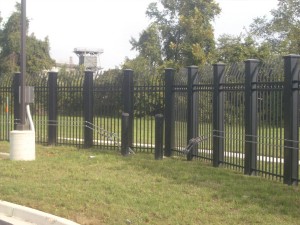 Hercules Fence of Richmond, VA prides itself in installing fence at some of the most prestigious places in the world, as well as for many government agencies & and well known businesses. We are proud of our unique and prestigious fence installations that we like to recognize as our "Signature" projects. Whether a custom installation designed by a Hercules professional, or a challenging project at a national landmark, Hercules fence takes a special pride in these jobs.
In addition to offering you experience and stability, Hercules Fence can offer the buying power of the largest fence company based in Virginia. Whether you are seeking chain-link fence, wood, PVC, ornamental aluminum, ornamental steel, decks, gate and operator systems, guardrail, dog kennels, wire mesh cages or construction panels, Hercules can buy the product at a price that will afford you value to complement our quality.
If you choose Hercules Fence of Richmond, VA today, you'll learn why we're the best in the business. The knowledgeable people of Hercules Fence have developed a reputation since 1955 for professional service and quality installation. With over 50 years in the fence business, we are well aware that our reputation must be earned anew every day.
Contact Hercules Fence of Richmond, VA today at (804)752-7992 or contact us on our website to talk about a residential or commercial fence.