Outdoor air conditioning units are a necessary part of life in Richmond, where hot summers have many retreating for the cool comfort of the indoors. However, these units are big, bulky, and unattractive. They're also loud. Overall, their function matters a lot more than their form, and the big a/c unit is not something you want to put on display.
So what can you do to remedy this? Why not use a fence to enclose your outdoor air conditioning unit? A fence will keep your unit tucked away and out of sight, and will help to mitigate some of the noise it generates. Here's how a fence can turn your a/c unit from an eyesore into a pleasant sight.
Fenced-In Air Conditioning
Hidden from View
A fenced-in enclosure hides your air conditioning unit from view and adds a nice little segment of fence to your home. The fence can even serve as the backdrop for a landscaped or hardscaped addition that further distracts the eye and hides the fact that the air conditioner is even there.
Sound Reduction
Air conditioners are loud, and the sound they make isn't the most pleasant. While a fence won't eliminate the sound, it can help to muffle it and make it a little more tolerable.
Out of Sight, Out of Mind
By hiding your air conditioner with a fence and additional landscaping, you can put your a/c out of sight and out of mind. Wooden fence is ideal for hiding an a/c unit, as its wooden slats can completely obscure it from view. Make sure to leave enough room around the unit and the fence for it to breathe and for access for maintenance purposes.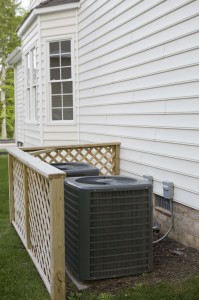 Hercules Fence of Richmond, VA prides itself in installing fence at some of the most prestigious places in the world, as well as for many government agencies & and well known businesses. We are proud of our unique and prestigious fence installations that we like to recognize as our "Signature" projects. Whether a custom installation designed by a Hercules professional, or a challenging project at a national landmark, Hercules fence takes a special pride in these jobs.
In addition to offering you experience and stability, Hercules Fence can offer the buying power of the largest fence company based in Virginia. Whether you are seeking chain-link fence, wood, PVC, ornamental aluminum, ornamental steel, decks, gate and operator systems, guardrail, dog kennels, wire mesh cages or construction panels, Hercules can buy the product at a price that will afford you value to complement our quality.
If you choose Hercules Fence of Richmond, VA today, you'll learn why we're the best in the business. The knowledgeable people of Hercules Fence have developed a reputation since 1955 for professional service and quality installation. With over 50 years in the fence business, we are well aware that our reputation must be earned anew every day.
Contact Hercules Fence of Richmond, VA today at (804)752-7992 or contact us on our website to talk about a residential or commercial fence.