Gated driveways not only give a home a very nice appearance, but they also offer increased security and peace of mind for you and your family. Automated gate systems make having a gated driveway even more convenient. Here are a few reasons why you should install an automated gate for your Richmond home.
Reasons to Install an Automated Gate for Your Richmond Home
Most gates can be automated. Most styles of gates can be automated and equipped with advanced features. Hercules Fence of Richmond will analyze your particular situation and offer the best solutions for you.
Ease of Access. Whether it be by transmitter, pushbutton, touchpad, intercom, swipe card, or dedicated phone connection, you can choose whatever works best for your automated gate entry system.
Safety. For those with long driveways, gates provide an extra layer of protection from potential intruders.
Cell Phone Connection. With advanced gate entry automation, you can have your phone be notified every time someone enters your gate, so you're never caught off guard.
Automation. No more getting out of the car in the rain or cold to open your driveway gate. Just use your automated entry system of choice and get going!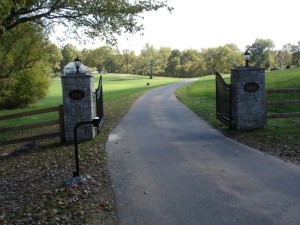 Hercules Fence of Richmond, VA prides itself in installing fence at some of the most prestigious places in the world, as well as for many government agencies & and well known businesses. We are proud of our unique and prestigious fence installations that we like to recognize as our "Signature" projects. Whether a custom installation designed by a Hercules professional, or a challenging project at a national landmark, Hercules fence takes a special pride in these jobs.
In addition to offering you experience and stability, Hercules Fence can offer the buying power of the largest fence company based in Virginia. Whether you are seeking chain-link fence, wood, PVC, ornamental aluminum, ornamental steel, decks, gate and operator systems, guardrail, dog kennels, wire mesh cages or construction panels, Hercules can buy the product at a price that will afford you value to complement our quality.
If you choose Hercules Fence of Richmond, VA today, you'll learn why we're the best in the business. The knowledgeable people of Hercules Fence have developed a reputation since 1955 for professional service and quality installation. With over 50 years in the fence business, we are well aware that our reputation must be earned anew every day.
Contact Hercules Fence of Richmond, VA today at (804)752-7992 or contact us on our website to talk about a residential or commercial fence.