Starting a vegetable garden is a great way to get healthy and fresh foods into your diet. Because they come from your backyard, you'll know that no pesticides were used on them and that they're not genetically modified. Plus, planting and tending to your own garden is a great hobby! It gets you active and outside, and yields great results in the end. If you're thinking about planting your own vegetable garden in your yard, use these tips to help you get started!
Three Tips for Starting a Vegetable Garden
Get a Fence!
The first thing you'll need to get your garden started is a fence! A fence will protect your garden from deer and other animals that want to get a taste. If you have a dog, a fence is also a good way to prevent your dog from digging around and messing up the garden. Fences are also great for marking off a certain part of the yard that can be dedicated just to the garden. Consider a vinyl chain link fence or picket wood fence for your garden.
Who Loves the Sun?
Before you pick out a spot, take note of which areas in your yard receive the most sun. The ones that do will be ideal for a garden. If it's near your kitchen, even better, as this will make it easy to grab fresh vegetables right when you need them.
Test the Soil
Once you've found a sunny spot, take a shovel and scoop out some soil. If it's sandy, rocky, compacted, or clay, it won't be good for a garden. Ideally you want rich, dark soil that is a bit looser. Once you've got your vegetables planted, add mulch to insulate the soil and retain moisture. You can use fertilizer, but don't overdo it, as this could actually end up harming the soil and vegetables.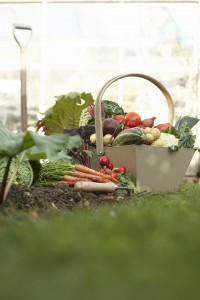 Hercules Fence of Richmond, VA prides itself in installing fence at some of the most prestigious places in the world, as well as for many government agencies & and well known businesses. We are proud of our unique and prestigious fence installations that we like to recognize as our "Signature" projects. Whether a custom installation designed by a Hercules professional, or a challenging project at a national landmark, Hercules fence takes a special pride in these jobs.
In addition to offering you experience and stability, Hercules Fence can offer the buying power of the largest fence company based in Virginia. Whether you are seeking chain-link fence, wood, PVC, ornamental aluminum, ornamental steel, decks, gate and operator systems, guardrail, dog kennels, wire mesh cages or construction panels, Hercules can buy the product at a price that will afford you value to complement our quality.
If you choose Hercules Fence of Richmond, VA today, you'll learn why we're the best in the business. The knowledgeable people of Hercules Fence have developed a reputation since 1955 for professional service and quality installation. With over 50 years in the fence business, we are well aware that our reputation must be earned anew every day.
Contact Hercules Fence of Richmond, VA today at (804)752-7992 or contact us on our website to talk about a residential or commercial fence.
Source
http://www.growingagreenerworld.com/tips-for-growing-the-perfect-vegetable-garden/