In the world of home improvement, there are few projects that are more immediately visible and have such a dramatic effect on your property as a good fence. From curb appeal to security to a whole host of others, installing a new fence is a project that should be high on your list. This week, we're going to discuss some of the reasons why you should install a residential fence on your property.
Top 5 Reasons to Install a Residential Fence
Curb Appeal – Curb appeal is the impression someone who is walking along the sidewalk or driving by gets when they see your home from the curb. A beautiful fence will be one of the first things that stands out to a passerby. As a hardworking homeowner, you're proud of your home, and you want it to stand out. Installing a fence is one of the easiest and most rewarding ways to do so.
Customization – There are so many fencing options available that it would be hard for you to find something you didn't like. In fact, you'll probably have the opposite problem: choosing just one out of so many great options! Whether it's a classic wood picket fence painted white, or a stately ornate iron fence, you can pick whatever material, color, size, and shape that you want.
Aesthetic – Fences can really define the aesthetic of a home. Your two-story colonial wouldn't be complete without that wood fence, and that old 19th century mansion would be complemented perfectly with an iron fence.
Security – Fences are the first line of defense for your home, providing safety, security, and peace of mind for your family. By integrating an alarm system, you can further protect your home from unwanted guests. Fences also create safe spaces in the yard for children and pets to play, where you can keep an eye on them without worrying about them wandering off.
Home Value – When it comes time to sell, all of these benefits of installing a residential fence will translate into a boost in your home's value.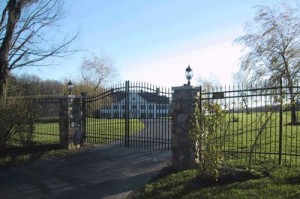 Hercules Fence of Richmond, VA prides itself in installing fence at some of the most prestigious places in the world, as well as for many government agencies & and well known businesses. We are proud of our unique and prestigious fence installations that we like to recognize as our "Signature" projects. Whether a custom installation designed by a Hercules professional, or a challenging project at a national landmark, Hercules fence takes a special pride in these jobs.
In addition to offering you experience and stability, Hercules Fence can offer the buying power of the largest fence company based in Virginia. Whether you are seeking chain-link fence, wood, PVC, ornamental aluminum, ornamental steel, decks, gate and operator systems, guardrail, dog kennels, wire mesh cages or construction panels, Hercules can buy the product at a price that will afford you value to complement our quality.
If you choose Hercules Fence of Richmond, VA today, you'll learn why we're the best in the business. The knowledgeable people of Hercules Fence have developed a reputation since 1955 for professional service and quality installation. With over 50 years in the fence business, we are well aware that our reputation must be earned anew every day.
Contact Hercules Fence of Richmond, VA today at (804)752-7992 or contact us on our website to talk about a residential or commercial fence.