Unless you want Fido running around all over the neighborhood, you're probably going to need a fence to keep him close to home. When choosing fencing for dogs, the debate between traditional fences and invisible fences often comes up. So, which is better for your dog?
While invisible fences have their benefits, they also have several flaws. One big flaw is that these fences are more difficult to adjust to the perimeter of your yard, especially if its perimeter is uneven. The line of an invisible fence is essentially the circumference of a circle around a central point. The radius of this circle can't change, so the distance which the fence covers is equal in all parts of your lawn. A traditional fence on the other hand, can easily adapt to the perimeter of your lawn.
Another problem with invisible fences is that while they may keep your dog in, they let other animals in as well. When other dogs see your dog in the yard, they might be tempted to come over and investigate. Many dogs are friendly, but others might be up to trouble, in which case a traditional fence is the only way to keep them out. A secondary benefit of a traditional fence is that it protects your grass and gardens from being eaten by deer and other animals who may come passing through.
A final issue with invisible fences is that they don't always keep dogs contained. A determined dog might just shrug off the shock as he chases a squirrel out of the yard. A traditional fence will keep Fido in, and other dogs and animals out.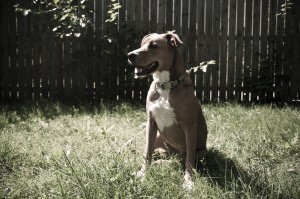 Hercules Fence of Richmond, VA prides itself in installing fence at some of the most prestigious places in the world, as well as for many government agencies & and well known businesses. We are proud of our unique and prestigious fence installations that we like to recognize as our "Signature" projects. Whether a custom installation designed by a Hercules professional, or a challenging project at a national landmark, Hercules fence takes a special pride in these jobs.
In addition to offering you experience and stability, Hercules Fence can offer the buying power of the largest fence company based in Virginia. Whether you are seeking chain-link fence, wood, PVC, ornamental aluminum, ornamental steel, decks, gate and operator systems, guardrail, dog kennels, wire mesh cages or construction panels, Hercules can buy the product at a price that will afford you value to complement our quality.
If you choose Hercules Fence of Richmond, VA today, you'll learn why we're the best in the business. The knowledgeable people of Hercules Fence have developed a reputation since 1955 for professional service and quality installation. With over 50 years in the fence business, we are well aware that our reputation must be earned anew every day.
Contact Hercules Fence of Richmond, VA today at (804)752-7992 or contact us on our website to talk about a residential or commercial fence.