Hercules Fence of Richmond offers many security fencing solutions that are guaranteed to suit your security needs. Let's talk about some of the benefits of security fencing.
Peace of Mind
Security fencing keeps out unwanted intruders, plain and simple. Our security fencing is customizable, so we can tailor it to fit your needs exactly. Security fencing is your first line of defense against potential vandals, robbers, and more.
Lots of Fencing Options
Whether it be anti-climb fence, automated gates, or crash rated bollards, we can put together a total security package that will keep your commercial, industrial, or government facility secure.
Quality
With Hercules Fence, you know you're getting the highest quality fencing available, a fact that's doubly important in security situations. Our crash rates bollards are tested to ensure their effectiveness, and anti-climb fencing is designed to foil even the most skilled fence scalers.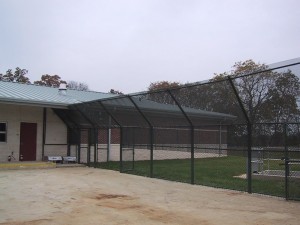 Hercules Fence of Richmond, VA prides itself in installing fence at some of the most prestigious places in the world, as well as for many government agencies & and well known businesses. We are proud of our unique and prestigious fence installations that we like to recognize as our "Signature" projects. Whether a custom installation designed by a Hercules professional, or a challenging project at a national landmark, Hercules fence takes a special pride in these jobs.
In addition to offering you experience and stability, Hercules Fence can offer the buying power of the largest fence company based in Virginia. Whether you are seeking chain-link fence, wood, PVC, ornamental aluminum, ornamental steel, decks, gate and operator systems, guardrail, dog kennels, wire mesh cages or construction panels, Hercules can buy the product at a price that will afford you value to complement our quality.
If you choose Hercules Fence of Richmond, VA today, you'll learn why we're the best in the business. The knowledgeable people of Hercules Fence have developed a reputation since 1955 for professional service and quality installation. With over 50 years in the fence business, we are well aware that our reputation must be earned anew every day.
Contact Hercules Fence of Richmond, VA today at (804)752-7992 or contact us on our website to talk about a residential or commercial fence.