Aluminum fencing is all-around one of the best value fencing options available on the market today. When it comes to durability, longevity, maintenance, and ROI, aluminum fencing is always there at the top of the list. Plus, with custom aluminum manufacturing, your new fence can be designed to meet your aesthetic preferences. Learn about the many benefits of aluminum fencing in Richmond in this week's blog.
The Benefits of Aluminum Fencing in Richmond
It's durable.
Aluminum is one of the most durable fencing materials out there. It's both strong and lightweight, which makes it ideal for fencing in any situation, residential, commercial, or industrial.
It's built to last.
Aluminum is also one of the longest-lasting fencing materials you can get. It's durability is one component of this, but so is the fact that aluminum is a non-ferrous metal. This means that it is more resistant to rust, enabling it to last longer than other metal fences.
Aluminum fencing in Richmond is easy to maintain.
Maintenance for aluminum fencing is pretty straightforward. All it needs is a good washing and drying once in awhile, and it should take care of itself. Watch out for vegetation growing in the area, which over time can weaken any fence.
You get a great return on your investment.
When you buy a fence, you're expecting it to last for the long term. Aluminum fencing does just that, which makes it one of the best fences you can get in terms of ROI.
Limited lifetime warranty.
We stand behind our work, which is why we offer a limited lifetime warranty on aluminum fencing in Richmond.
You can find a design and color that works for you.
Many people think of aluminum as a utilitarian material, but it's actually quite versatile when it comes to aesthetics. We manufacture our products in-house, which means we can design custom ornamental aluminum fencing for your project. Choose from a number of different colors, picket and railing styles. Check out this custom aluminum fence and gate below for an example!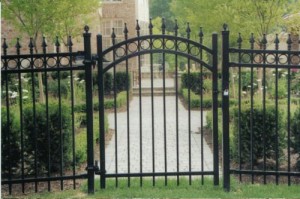 Hercules Fence of Richmond has been providing professional fence installation and service in Richmond for more than 50 years. Call us at (804)752-7992 or contact us on our website to learn more about residential and commercial fencing in Richmond.