If you need to protect your facility with high security fencing in Richmond, you can't trust your fencing needs to just anyone. You need a fencing contractor that has experience working with high security projects in the most demanding on environments. You need a fencing contractor that offers all of the high security fencing components you need to secure your facility with confidence. Hercules Fence has worked with numerous federal agencies to provide them with the high security fencing they need to serve as their first line of defense. This includes, among others:
The FBI
The Pentagon
The CIA
The State Department
NASA
The Social Security Administration
The U.S. Naval base in Norfolk
Quantico Marine Base
U.S. Army Base, Ft. Lee
Langley Air Force Base
The Department of Homeland Security.
Hercules Fence offers a comprehensive security fencing solution that is catered to the needs of your facility in order to provide the best possible protection.
Crash Rated Barriers
The first line of defense against attempts at brute force vehicle entry, crash rated barriers include slide gates, pop-up barriers, lift-arm gates, and all types of bollard systems. Our security fencing professionals install the right protection at the right place to deter and stop brute force entry to the facility.
Anti-Terrorism Cable
Cable systems are used within fence systems to give them additional strength and protection from brute force or other entry. Our high security fencing team can advise you as to the best use of anti-terrorism cable in your security fencing setup.
High Security Fencing in Richmond
No matter what your security needs are, we can design a custom high security fencing system in Richmond that fits all of your requirements. For more information about high security fencing in Richmond, contact Hercules Fence of Richmond today.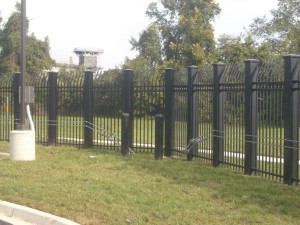 Hercules Fence of Richmond has been providing professional fence installation and service in Richmond for more than 50 years. Call us at (804)752-7992 or contact us on our website to learn more about residential and commercial fencing in Richmond.