As a homeowner, the security of your family and your home is one of your top priorities, even when you're not at home. If you're like many families, you may be traveling for an extended period of time this holiday season to see family and friends. It's important to make sure your home is safe and protected from burglars during the time that you're away. In this week's blog, we'll cover home security tips for the holidays that you can use.
Home Security Tips for the Holidays
Make Your House Look Occupied
Make your house look like it's occupied at all times in order to deter potential burglars. You can use automatic times to turn lights on and off throughout the house at night to make it look like someone is moving around in the house. Outdoor lighting is also a good deterrent, as burglars will be less likely to want to move through a lit area.
Keep Your Neighbors in the Loop
Ask a neighbor you trust to keep an eye on your house while you're gone and note any suspicious activity. Ask them to contact you immediately if anything seems off.
Stop Your Mail
If you're going away for an extended period of time, stop your mail delivery and ask your neighbor to pick up your newspaper or any packages you receive. A pile of newspapers is a sure sign of a family on vacation.
Don't Leave a Spare Key Out
Some people like to leave spare key hidden somewhere around the door just in case they forget or lose their key. While this is convenient for you, it can also be convenient for burglars, who will easily be able to enter your front door. Smart burglars know the traditional hiding spots for these spare keys, and will be able to find them.
Doublecheck Your Home Security System
If you haven't tested your home security system in a while, test it to make sure it's working.
Lock Your Fence Gate
Lock your fence gate on your way out! A fence is your first line of defense against burglars and is a great investment in your home's security. For more information about fencing and home security, contact Hercules Fence of Richmond today.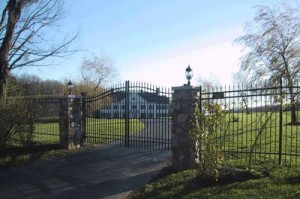 Hercules Fence of Richmond has been providing professional fence installation and service in Richmond for more than 50 years. Call us at (804)752-7992 or contact us on our website to learn more about residential and commercial fencing in Richmond.