Ever since mankind first started building fences, people have been climbing them. This was a problem seeing as the main purpose of a fence is to keep everything on the other side out. Non-climbable fencing ensures that no one will be able to breach your perimeter.
Welded wire enclosures fully enclose a space, meaning that even if someone were to climb to the top, they'd still be staring down through a fence. Our curved anti climb fences and mini mesh angled fences are angled such that as someone begins to climb, they eventually end up unable to support their weight on the fence below them, making it impossible to reach the top. The barbed wire of our razor ribbon fence will make anyone think twice about climbing.
No matter the application, we have non-climbable fencing solutions that work for you. Whether it be for a military base, government building, corporate or industrial facility, or any other high security installation, our non-climbable fences will give you peace of mind by keeping potential intruders from coming in.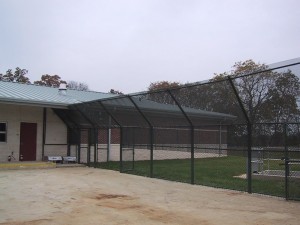 Hercules Fence of Richmond, VA prides itself in installing fence at some of the most prestigious places in the world, as well as for many government agencies & and well known businesses. We are proud of our unique and prestigious fence installations that we like to recognize as our "Signature" projects. Whether a custom installation designed by a Hercules professional, or a challenging project at a national landmark, Hercules fence takes a special pride in these jobs.
In addition to offering you experience and stability, Hercules Fence can offer the buying power of the largest fence company based in Virginia. Whether you are seeking chain-link fence, wood, PVC, ornamental aluminum, ornamental steel, decks, gate and operator systems, guardrail, dog kennels, wire mesh cages or construction panels, Hercules can buy the product at a price that will afford you value to complement our quality.
If you choose Hercules Fence of Richmond, VA today, you'll learn why we're the best in the business. The knowledgeable people of Hercules Fence have developed a reputation since 1955 for professional service and quality installation. With over 50 years in the fence business, we are well aware that our reputation must be earned anew every day.
Contact Hercules Fence of Richmond, VA today at (804)752-7992 or contact us on our website to talk about a residential or commercial fence.